Where in the World are the Wiseman's?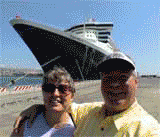 Travel is our passion. By the time we both retired, we had been to all fifty states, 82 countries and taken 47 cruises. (Click here for the current count.) Now that we really have time to travel, we plan to see the rest of the world and revisit old favorites at a slower pace. Whenever we are asked what our favorite destination was, we answer, "The next one!" We look forward to sharing our adventures with you as well as staying in touch. We hope you use the "leave a message" link to keep in touch as well. There's nothing like positive feedback to keep the blogger motivated!

RV travelers may also enjoy our podcast at: RV Navigator

Where we've been so far...